IMarEST Announces New Member Benefit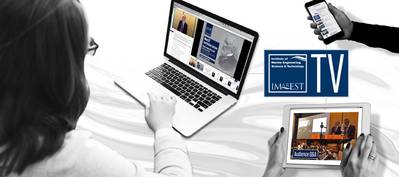 The Institute of Marine Engineering Science & Technology (IMarEST) has announced a new benefit for its members in the form of IMarEST TV, an on-demand video platform. Members are able to access and watch exclusive content, including lectures, conferences, meetings and tutorials that have been uploaded by the Institute and its branches. This means that members can now live-stream or watch recordings of events going on all over the world, not just at their local Branch.
David Loosley, IMarEST Chief Executive, commented: "Using cutting-edge technology, this platform allows us to share all the content being created by members across the globe. This vast capability for knowledge transfer is very much at the heart of the IMarEST's mission to promote the scientific development of marine disciplines, to provide opportunities for the exchange of ideas and practices and uphold the status, standards and expertise of marine professionals worldwide."
The platform has a split-screen format, allowing the speaker to be viewed at the same time as the slides they are discussing. The overall experience is therefore very similar to attending in person. It also has an easy-to-use search function, as do the videos themselves. This means viewers can search for a keyword within a video and skip to any point at which that word appears, either in the slides or the transcript.
Notes can be jotted down and saved whilst watching the video. These notes act as bookmarks for when the video is watched in the future and can be shared with other viewers. iOS and
Android mobile
apps are also available so content can be viewed on the move and can be downloaded for offline viewing whilst at sea!
"In a digitally linked world, IMarEST TV is a vital tool for bringing together an expansive membership spanning 128 countries. I hope that this new accessibility and interconnectedness will lead to more debate, more ideas and faster progress for the marine and maritime industry as a whole."