Cobham Debuts New Sailor 800 VSAT Antenna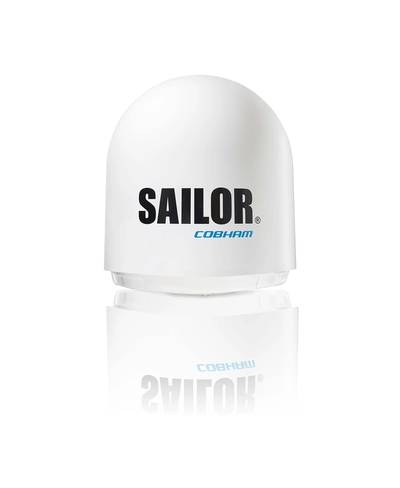 Cobham announced the forthcoming launch of a brand new Sailor VSAT antenna. Sailor 800 VSAT is a high performance 3-axis stabilised Ku-band antenna system with an 83 cm reflector dish, which provides the same radio performance as competing 1m antennae.

The unique, class-leading performance of Sailor 800 VSAT opens up a world of high quality, reliable communications for a wider range of applications including workboats and fishing vessels, whilst providing installation flexibility for vessels of all types and size. Sailor 800 VSAT competes in the 1m VSAT antenna market, offering significant benefits by being lighter and more compact than the competition, but offering equal or even higher RF performance (G/T >18 dB/K).

Sailor 800 VSAT is based on the same technology platform as Cobham's established Sailor 900 VSAT 1m VSAT antenna, which itself sets class-leading performance standards within the 1-1.2m antenna sector. Cobham's newest VSAT antenna offers the same benefits as Sailor 900 VSAT, in terms of uniquely simple procurement and installation in addition to top of the line RF performance.

After ordering a complete system with a single part number, each Sailor 800 VSAT leaves the factory fully tested and configured, with all RF equipment installed, which reduces the time needed on board for installation. This results in lower start-up costs, whilst the Sailor build quality ensures reliability and increased up time.

"Sailor 800 VSAT is designed to out-perform competing 80-100cm antennae, despite coming in a smaller, more competitive and flexible package," commented Casper Jensen, Head of Maritime, Cobham SATCOM. "With Sailor 900 VSAT as our starting point, our in-house engineers have created an 80cm class antenna that punches well above its weight."

With Sailor 800 VSAT, vessel operators or maritime VSAT service providers can now enjoy the benefits of a 20% smaller and lighter antenna and the performance of a 1m antenna, including easier and quicker installation on a wider range of vessels.

Cobham will start shipping the new Sailor 800 VSAT in September 2013.