USS Simpson Trains 5 Countries in Anti-piracy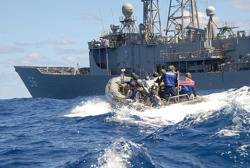 Guided-missile frigate USS Simpson completes two days anti-piracy training exercises in Gulf of Guinea.


Participating in Obangame Express, a maritime exercise aimed to improve cooperation amongs participating nations, USS Simpson acted as a boarding vessel with role players and trainers for teams from five countries - Cameroon, Gabon, Ghana, Sao Tome and Principe, and Spain. Simpson also sent a boarding team to a Nigerian navy vessel, the patrol cutter NNS Nwamba, to practice boarding techniques while other personnel visited six ships for training with counterparts.