Stork Announces Two New Appointments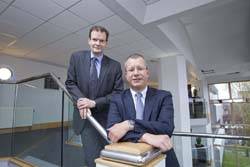 Stork Technical Services has appointed Dave Workman to the new position of Chief Operating Officer (COO) and Erik-Jan Bijvank as Senior Vice President (SVP) UK and Africa. Mr Workman and Mr Bijvank will both be based in Aberdeen, UK, which is the operational hub for the company's upstream oil & gas business, and take on their respective roles with immediate effect.


As COO, Mr Workman will oversee all operational matters and help drive Stork's global growth plans across the company's four key regions; UK & Africa, Continental Europe, MECAP (Middle East, Caspian, Asia-Pacific) and the Americas. Mr Workman will also have a key role in ensuring the safe execution of operational activity across Stork's global business.


Mr Workman takes on the role having served as CEO of the former RBG business, which Stork acquired in May 2011, for the past three years. This follows an extensive career in the oil & gas industry spanning more than 30 years, starting as a petroleum engineer for BP and most recently being appointed as Chairman of the Offshore Contractors Association (OCA). In 2011, Mr Workman led the RBG business to a year of record sales and outstanding HSEQ performance.


Mr Workman said: "This is an exciting time to be part of Stork Technical Services and I look forward to the challenge of being involved in both shaping and influencing the global success of the company. There is a strong team in place to take the business forward and I am delighted to be part of it."


Mr Bijvank joined Stork in 1999 and served as VP Asset Management over the last two years, where he led the delivery of integrity support services across the asset lifecycle. In his new role, Mr Bijvank is responsible for driving new business, operational excellence and outstanding safety performance in the UK and Africa.


Mr Bijvank said: "We have significant growth plans for our operations in the UK & Africa. We are seeing an increased demand for our asset integrity services in the North Sea and are looking to build on recent contract successes in Africa. We have the skills, technology and experience to ensure the region plays a significant role in the future success of Stork."


Doug Meikle, CEO for Stork Technical Services, said: "The appointments of Dave and Erik-Jan are crucial to the continued, strategic growth of Stork Technical Services." "Throughout his career, Dave has demonstrated exceptional leadership, as well as a passion for developing new business, introducing new technologies to market, and delivering safety excellence. His experience, track record and enthusiasm will ensure he is a truly outstanding addition to the Stork leadership team.

"In his time at Stork, Erik-Jan was responsible for delivering significant growth in our Asset Management offering. He is ideally placed to lead the ongoing development of Stork's integrated service portfolio in the UK and Africa and I am confident his appointment will be a great success."