Click Bond ABS Product Type Approval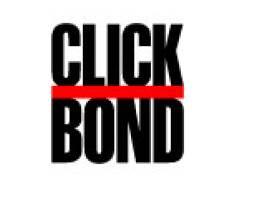 Click Bond, Inc., the leader in adhesive bonded fastening technology is pleased to announce receipt of American Bureau of Shipping (ABS) Product Type Approval for several of its fastener and adhesive products. The approved products include of a variety of bonded studs, standoffs, cable tie mounts, brackets, loop strap fasteners, insulation pins, and adhesives. The Product Type Approval follows a successful ABS Manufacturing Assessment (MA), and Product Design Assessment (PDA), and is valid for products intended for use on ABS class vessels and Mobile Offshore Drilling Units (MODUs).

"By eliminating clamping, drilling, and welding, bonded fastener technology provides the ultimate solution for securing attachments to structure."
- Karl Hutter, Vice President, Sales and Marketing for Click Bond, Inc.

Click Bond's adhesive bonded fasteners eliminate hot work and potential clamp failures, creating a safer installation process that enables repair at sea, increasing ship or platform uptime. In addition, the adhesives offered by Click Bond are impervious to fuel, oil, hydraulic fluid and marine environments and establish a chemical barrier between the structure and attachment, inhibiting galvanic corrosion.

Click Bond's bonded fastening system can be used to attach panels, wire and cable runs, junction boxes, light duty fixtures, pipe and tube clamps, and furnishings such as sleeping berths, tables, and chairs. Click Bond provides a strong, reliable, labor saving solution for the marine and offshore industries structural attachment needs.

With the confirmation of ABS approval on these products, Click Bond is ready to serve the marine and offshore industries with the high quality product, outstanding global customer service, and over 20 years of expertise that have defined Click Bond in the aerospace and transportation industries.
Source: Click Bond Inc.