Wärtsilä AQUARIUS BWMS LPG Carrier Retrofit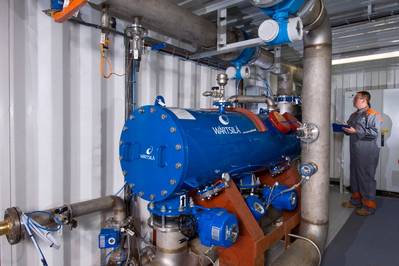 Wärtsilä contracted to retrofit its AQUARIUS UV ballast water management system for the Marola, a 37,000 cbm fully-refrigerated Liquefied Petroleum Gas (LPG) vessel of the Carbofin SPA, Italy fleet.
The retrofitting for the Marola will take place in autumn 2013 when the ship is dry docked. The vessel will operate in the U.S. Gulf of Mexico, the Caribbean and South American waters.

By virtue of its design, the Wärtsilä AQUARIUS UV ballast water management system allows ease of installation for both retrofit and new build applications. The system can be tailored to meet specific requirements, while enabling conformity with legislation and helping owners and operators to minimize their environmental footprint.
The AQUARIUS UV BWMS is a modular system utilising a two stage approach involving filtration and medium pressure UV disinfection technology. The Wärtsilä AQUARIUS UV Ballast Water Management System meets the IMO D2 discharge standard, and received type approval in December 2012.

Ratification of the IMO's Ballast Water Management Convention, which will require the owners of up to 40,000 vessels worldwide to install a ballast water management system (BWMS), is anticipated within the next 12 months. The U.S. Coast Guard (USCG) has however implemented their own legislation which states that all ships will have to be in compliance with the regulations when sailing in U.S. coastal waters.

Enforcement of the U.S. requirement commences on December 19, 2013, when ships must comply with the 2013 Vessel General Permit (VGP) regulating discharges from ships. As a consequence, ship owners have to evaluate, Wärtsilä advises, as a matter of some urgency, the ballast water treatment technology best suited to both their existing and new ships. The intention of the legislation is to address the issue of invasive aquatic species being carried in the ballast water of ships and then discharged to the sea where they can harm local species.