Norwegian Archipelago Orders ProZero Workboat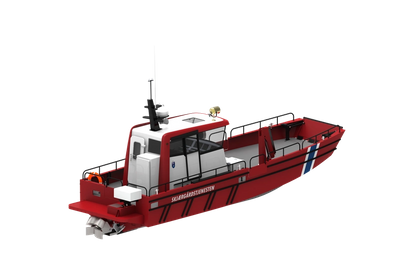 Norwegian Archipelago Services purchases another ProZero 10.5 meter workboat; Holmestrand Municipality commissions the vessel for the Archipelago services
Norwegian Archipelago Services has bought a second ProZero workboat. The vessel was sold by Tuco Marine in
Denmark
in close cooperation with Tuco's Norwegian partner Provide Maritime A/S and was commissioned by Holmestrand Municipality for the Archipelago service.
The vessel, a ProZero 10.5 DC Archipelago, is from Tuco´s ProZero Vessel series. And is following a previous sale of another 10.5m ProZero Archipelago Workboat to the Norwegian service provider.
The Norwegian Archipelago services had their first ProZero vessel delivered in the summer of 2015 and the current tender won with the ProZero boat, is second in row, within this vessel category to be won by Tuco Marines ProZero series.
The current vessel differentiates from the earlier delivery, by having a centre-mounted cabin, that includes Helmsman and Navigator's positions and a seating arrangement for further three persons. The propulsion system is a single diesel engine running a jet drive.
The ProZero 10.5 DC Archipelago, is a fast work boat, specially designed for maritime work around islands, at ports, and other type of work which includes logistics and where flexibility is of the essence, so the boat is equipped with a large bow-door featuring 1.6 meter opening, so wagons and ATVs can be driven directly on board. The boat is further equipped with a crane and power winches.
"This exact vessel in many ways has everything, that has been our desire, designing the ProZero series," said Tuco CEO,
Jonas Pedersen
. "We have been keen with the series, to create a very flexible design platform that can be adapted precisely to the needs of our customers. Precisely this was done in the Archipelago model, where the customer receives, both a specifically adapted boat for their needs, but at the same time a fast (27 knots) and very strong boat which has been thoroughly tested."
"The sale of the boat to Norway is significant for Tuco as
precisely Norway
is a big market for small workboats and the company therefore considers this return customer sales to Norway as extremely positive," Pedersen said.