Kirby to Order New Articulated Tank Barge, Tugboat, Pair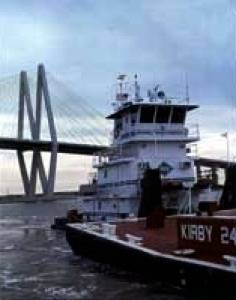 Kirby Corporation says it is to construct an articulated 185,000 barrel tank barge and 10,000 horsepower tugboat unit (ATB unit) at a cost of $75 to $80 million for charter to a customer when completed.
Joe Pyne, Kirby's Chairman and Chief Executive Officer, commented, "With the coastal fleet utilization around 90%, increasing demand for the coastwise movements of crude and natural gas condensate, and continued progress in expanding our coastal business to inland customers, new capacity is needed to meet demand. The 185,000 barrel ATB unit has the flexibility to access ports that restrict larger vessels, while still delivering large volumes of product for our customer."

About Kirby Corp.
Kirby Corporation, based in Houston, Texas, is the nation's largest domestic tank barge operator, transporting bulk liquid products throughout the Mississippi River System, the Gulf Intracoastal Waterway, coastwise along all three United States coasts and in Alaska and Hawaii. Kirby transports petrochemicals, black oil, refined petroleum products and agricultural chemicals by tank barge.

Through the diesel engine services segment, Kirby provides after-market service for medium-speed and high-speed diesel engines and reduction gears used in marine and power generation applications. Kirby also distributes and services high-speed diesel engines, transmissions, pumps, compression products and manufactures and remanufactures oilfield service equipment, including pressure pumping units, for land-based pressure pumping and oilfield service markets.