Austal Submits Final Phase II JHSV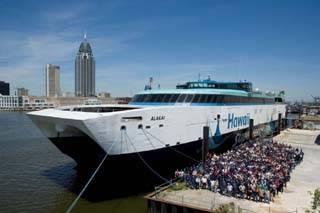 Austal submitted its final Phase II Joint High Speed Vessel (JHSV) submission to the US Navy this week following a design and review process. Austal was one of three bidders awarded a Phase I contract in January and it is anticipated that a single Phase II contract will be awarded in late 2008 for the construction of up to ten ships.
The Austal JHSV Team's low risk, technology solution is comprised of Austal , Austal Ships () and General Dynamics Advanced Information Systems (GDAIS). This team is able to provide design and construction experience of commercially based high speed vessels in the and the integration of military computing environments.
The JHSV program is a joint effort between the Army and Navy to acquire high-speed vessels for the two branches of the military. JHSV will be used for fast intra-theatre transportation of troops, military vehicles and equipment.