Dockwise Carry LHD Hull Safely to Australia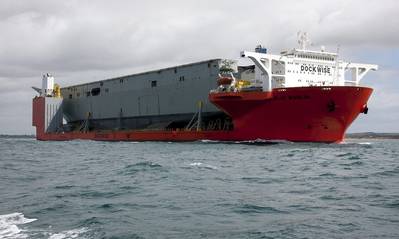 The Navy's first Canberra-Class Landing Helicopter Dock (LHD) warship arrives at its Victoria, Australian home for the next 12 months.

The LHD01 hull has been transported from Spain to Australia by Heavy Lift Ship, Blue Marlin, taking around eight weeks for the 12,000 nautical miles ( approx 18,520 km) to deliver the first LHD.

Senior Project Manager for Dockwise, Frank Berrens, said that he was proud the company could assist in the delivery and provide the hull to BAE Systems ready to commence work on the next phase.

The LHD will be floated off the Blue Marlin over the next two weeks and then towed into the BAE facility at Williamstown.

The Canberra Class LHDs are bigger than Australia's last aircraft carrier HMAS Melbourne. When completed they will be more than 230 metres long, 27.5 metres high and weigh around 27,500 tonnes.

The LHDs are the largest ships ever built for the Royal Australian Navy and testimony to this was the fact that it was visible on the horizon almost 2 hours before entering the port. It is interesting to note that the hull that is to be designated as HMAS Canberra sailed past its namesake which is now a artificial reef near the entrance to The Rip at Ocean grove.