Australia Names a Vessel in Honour of Whale Rescue Pioneer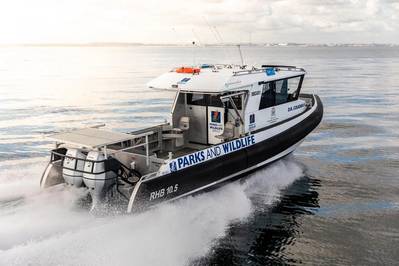 A new vessel has been named after the late Doug Coughran, a Western Australian wildlife officer who dedicated much of his life to developing whale rescue techniques that have been instrumental in improving outcomes for entangled whales.

These techniques pioneered by Doug are not only practised in WA but around the world, said a press release from the Government of Western Australia.

In 2010, Doug's achievements over three decades were formally recognised when he was appointed a Member of the Order of Australia for his services to conservation and the environment, particularly the disentanglement of whales, as both a practitioner and educator.

The 10.5-metre vessel will replace three boats currently used by the Department of Biodiversity, Conservation and Attractions, and will be tasked with responding to marine mammal incidents, managing the commercial whale watching industry and carrying out marine park, riverpark and island patrol duties.

The D K Coughran will operate within the Swan Canning Riverpark as well as the wider waters of the Marmion and Shoalwater Islands marine parks.

The Premier Mark McGowan said: "Doug was a great Western Australian, a leader and innovator who worked on behalf of the community and all wildlife. I was lucky enough to have met Doug when I was Environment Minister in 2006 and his passion and love for his work as a wildlife officer were evident.

"It is fitting a vessel employed to assist with protecting marine life is named in Doug's honour and will be used by many of the DBCA staff who Doug trained and mentored. His significant contribution to the protection and conservation of this State's marine animals was outstanding," he added.