Australian LNG-fueled RO/RO Enters Service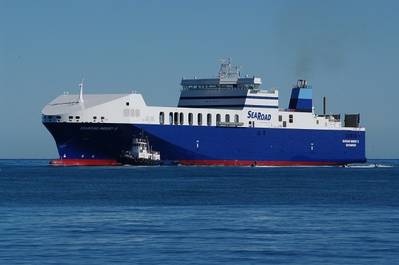 A brand new liquefied natural gas (LNG)-fueled roll-on-roll-off freight vessel, Searoad Mersey II, has commenced service from its home port Devonport, in northern Tasmania, Australia.
Touted by Bass Strait shipping and logistics firm SeaRoad as the "cleanest, greenest freight ship ever to trade in Australian waters", Searoad Mersey II is the first coastal ship in Australia to use LNG fuel-and-power technology and the first pure dry cargo ship in the world to use a roll-on roll-off LNG supply system.
The new 182-meter-long ship left its German builders Flensburger Schiffbau-Gesellschaft Shipyard in early November and voyaged to Australia via fuel and supplies stopovers in Las Palmas in the Canary Islands, Cape Town in South Africa and Fremantle in
Western Australia
, before arriving to its home port on December 12 and making its first commercial sailing for Melbourne from Devonport on December 14.
All of the ship's principal engines are dual-fuel, burning LNG as the primary source of energy to give significantly reduced emissions, minimal risk of oil pollution, greater operational efficiencies and sustainable future environmental benefits. In regular service Searoad Mersey II will use diesel for less than 1 percent of ship operations.
The total investment in the new ship plus its unique fuelling infrastructure, berth improvements and additional cargo handling equipment is in excess of $110 million. The project has been driven by the chairman of SeaRoad Holdings, Devonport's Chas Kelly, who said, "Tasmania has needed this vessel for the past few years and its arrival gives SeaRoad a 50 percent increase in our available capacity to move freight between Tasmania and the mainland, all year round."
Searoad Mersey II's master, Capt. Lloyd Cahill, said it was by far the finest ship he had ever had the honor to command.
"This is truly represents a new era for
Australian shipping
and especially for Tasmanian exporters and importers, and it leads the world with its pioneering LNG refueling system," Capt. Cahill said. "It's a technological marvel that was conceived and championed by Tasmanians, and its environmental credentials fit so well with the image the state is known for worldwide."
Cargo capacity: 6,750 metric tons
Length: 182 meters
Breadth: 26.8 meters
Draught: 6.35 meters
Speed: 20.5 knots
Freight decks/ramps: Three/two stern
Lane-meters: 1,960 + cars
Trailers/cassettes/containers (as cargo mix depends): 80/70/455 TEU
Reefer Points: 150
Cars: 110
Primary fuel: LNG