Australian Warship Visits Canada Naval Base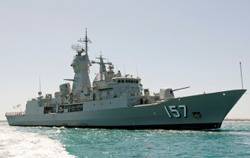 HMAS Perth has reaffirmed close Australian Defence ties to Canada with a visit to the Canadian Forces Base Esquimalt in Victoria, Canada
The visit by the Royal Australian Navy (RAN) ANZAC Class frigate coincided with Canada's Victoria Day. A contingent of HMAS Perth sailors were honoured to march ahead of the Royal Canadian Navy at the annual Esquimalt Victoria Day Parade.
The RAN and the Royal Canadian Navy (RCN) have a long history of serving and training together. RAN and RCN ships served during the Korean War, in support to East Timor, and have been longstanding participants the Rim of the Pacific (RIMPAC) Exercise series, the largest maritime exercise in the world.
Commanding Officer of HMAS Perth Captain Mal Wise OAM RAN, who trained with the Canadian Navy as a younger officer, said "There is nothing more effective than face to face contact with mates for developing relationships between Navies as well as nations."
During the visit, HMAS Perth demonstrated the Australian designed and built CEAFAR Radar and CEAMOUNT Missile Control Illuminator, which was recently fitted as part of the Anti Ship Missile Defence Upgrade. The new multi-phased array radar system can identify, track and guide missiles onto multiple targets simultaneously.
While on deployment to the US West Coast and Canada, HMAS Perth will conduct international engagement visits to several other ports and will participate in RIMPAC 2012.