Australia's New Icebreaker is Being Towed to the Netherlands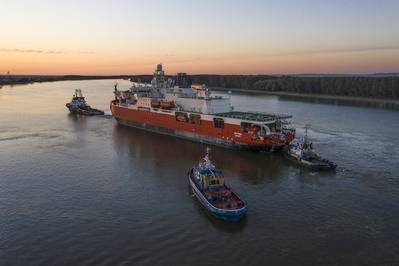 Australia's new, nearly completed icebreaker built at Damen's Galati shipyard in Romania is traveling to the Netherlands to undergo final commissioning and sea trials that had been delayed due to the coronavirus pandemic.
The Nuyina is currently under a month-long tow from Romania to the Dutch port of Vlissingen, where teams of equipment installers from Western Europe will access the new research and supply vessel (RSV) for final commissioning of essential propulsion, electrical and navigation systems, after work was suspended due to COVID-19 restrictions, the Australian Antarctic Division (AAD) said.
RSV Nuyina hasn't undergone sea trials and therefore doesn't have the required regulatory certificates to conduct international voyages under its own power, AAD said. The vessel is being towed 6,800 kilometers through the Black Sea, the Mediterranean Sea and the Strait of Gibraltar to reach the Netherlands by the end of August. A single 50-meter tug is towing the 160-meter icebreaker on the ocean passages, and up to three tugs will be used through some of the narrower canals.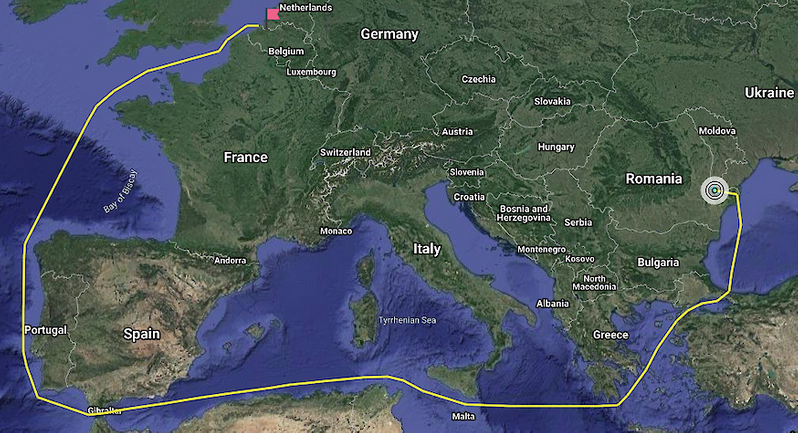 Nuyina's 6,800-kilometer route from Romania to the Netherlands (Photo: AAD)
AAD's general manager for assets and infrastructure, Rob Bryson, said Nuyina is built to break ice 1.65 meters thick and its bow had an unexpected test in the Danube River. "The ship made contact with the riverbank while being steered away from an uncharted pontoon," he said.
"Visual inspections show only superficial damage and after an hour delay, Nuyina continued to the Black Sea and then to the city of Constanta, where divers are now undertaking a thorough examination of the hull."
"This is a 16,300 tonne icebreaker, with a reinforced steel hull designed to crack through sea-ice, so while this is the ship's first scrape, it certainly won't be its last."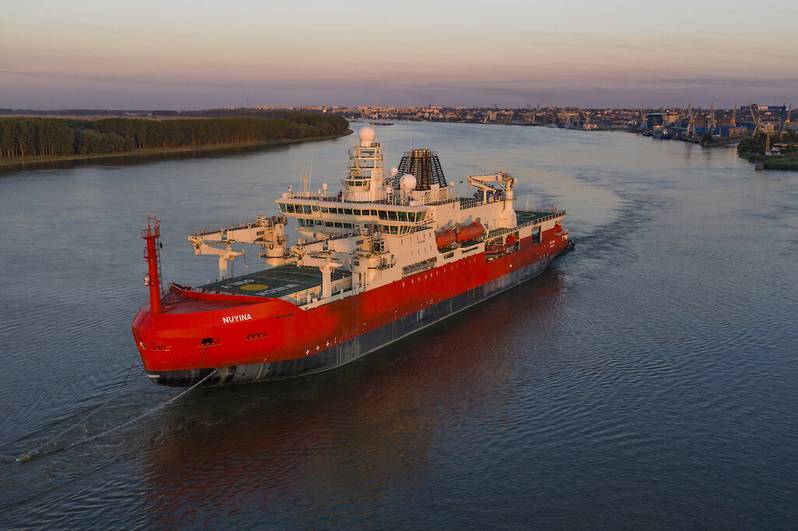 Nuyina heads down the Danube River to the Black Sea (Photo: Damen)
The vessel was designed by Knud E Hansen and is being built to replace the now-retired icebreaker Aurora Australis, offering scientists extended access to the Southern Ocean and Antarctica. RSV Nuyina's construction commenced in May 2017, and the vessel was floated out in September 2018 prior to planned arrival at its home port Hobart in 2020. But delays brought on by the COVID-19 outbreak have derailed the delivery schedule. It's now expected the new icebreaker will arrive in Hobart in mid-2021.
Nuyina had been slated to make its first voyage to Antarctica for the 2020-2021 summer season, operated by Serco Defence under the direction of the AAD for the Australian Government, but its delayed arrival means an alternate ship will be used next summer season.
In March the AAD reached a deal with Dutch company Maritime Construction Services to use the ice-class multipurpose vessel Everest from December 2020 until March 2021.