SC Ports Authority Container Volume Up 13%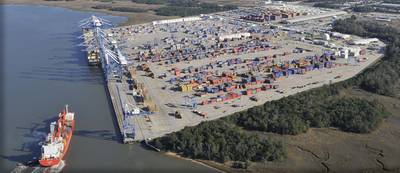 Today SC Ports Authority announced 13 percent year-over-year increases in container volume through the first quarter of the 2015 fiscal year.

SCPA handled 150,790 twenty-foot equivalent units (TEUs) in September, up 13.4 percent over the same month in 2013. Container volumes are 10.3 percent ahead of plan for the fiscal year, which began in July. From a calendar year perspective, TEUs are up 11.5 percent over 2013 levels.

Charleston breakbulk cargo volumes were also strong in September, with 65,214 pier tons handled during the month. Non-containerized cargo volumes remain on plan, and 199,319 tons have been moved fiscal year to date. Georgetown pier tons continued to climb through September, for a fiscal year to date gain of 38.7 percent over plan.

"SCPA experienced fairly significant growth during the first quarter, and above-plan volumes are reflected in our strong financial performance for the period," said SCPA president and CEO Jim Newsome. "We're seeing growth in the automotive sector as manufacturers add new lines and exports continue to rise."

Newsome discussed the Draft Integrated Feasibility Report and Environmental Impact Statement issued last week by the US Army Corps of Engineers (USACE), noting the significance of this step in the harbor deepening process. The report recommended the Charleston harbor be deepened to 52 feet, allowing the Port of Charleston to become the deepest port in the Southeast.

"Achieving this depth is critical for the SCPA, given the increasing size of vessels calling our terminals today," Newsome said. "The boom in manufacturing across the Southeast is also driving the need for our port to provide deep water for vessels fully-loaded with heavy manufacturing exports."

USACE and SC Department of Health and Environmental Control are accepting public comment on the report through November 24, 2014. Information about the project and a link to USACE's online comment form are available on the port's home page, scspa.com.

In other business, the Board authorized a contract for BergerABAM to complete a design review of the engineering plans for the Wando Welch Terminal wharf improvement project. Work on the project is scheduled to begin late spring 2015 and last approximately two and a half years.