Pedestal Crane Barge for New York Power Authority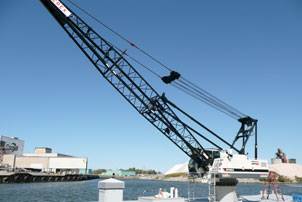 When the wicked winter weather begins to blow off Lake Erie, a shipbuilder and a crane company in Cleveland, Ohio, and the New York Power Authority (NYPA) will be glad they cooperatively commissioned and built a barge-mounted pedestal crane for the Lake Erie-Niagara River Ice Boom Operations in Buffalo, N.Y., to help reduce potential damage to hydroelectric power plants caused by Lake Erie's inevitable ice.

Building the Pedestal Crane Barge
The NYPA asked Great Lakes Shipyard, a member of The Great Lakes Group in Cleveland, to fabricate and deliver a new 80-foot by 34-foot pedestal crane barge for the ice boom operation. The shipyard turned to ALL Erection & Crane Rental Corp., a company with a fleet also headquartered in Cleveland.

First, the shipyard purchased a new Terex HP80 80-ton capacity pedestal-mounted crane from ALL, who is the exclusive dealer of Terex Cranes in Ohio, Michigan, Pennsylvania and West Virginia.

ALL trucked the crane and pedestal from Terex in North Carolina to the Great Lakes Shipyard's fabrication shop on the Cuyahoga River where the barge was built. There, the 60,000-pound crane body was lifted by a 250-ton assist crane, placed and mounted to the barge, and fully assembled by ALL's technicians on a specially built pedestal that was custom fabricated by Terex. Then it was delivered across Lake Erie to Buffalo by the Great Lakes Towing Company and put into service on September 10, 2010.

The Ice Boom Operation
The pedestal crane barge will become a key part of the annual installation and maintenance of the Lake Erie-Niagara River Ice Boom, owned jointly by NYPA and Ontario Power Generation and in use since 1964.

The 8,800-ft long ice boom is a series of floating steel pontoon strings, each 500 feet long and anchored to the bottom of the lake by steel cables. It spans the mouth of the Niagara River at Lake Erie from Buffalo Harbor to the Canadian shore. The ice boom prevents Lake Erie ice buildup from running into the river, thus reducing the likelihood of large-scale ice blockages that can cause flooding and reduce water flow to NYPA hydroelectric power plant intakes.

The boom is installed in Lake Erie around December 16 and removed in spring—a process that will now be facilitated by the crane barge from Cleveland.