STX France Shipyard Adds More Automated Welding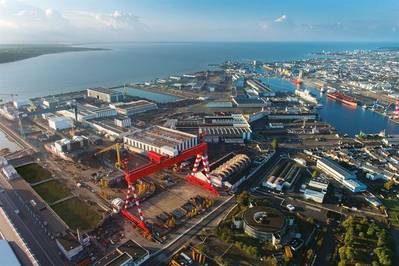 A good order book and need for higher capacity in the dock were the basis for STX France to purchase more welding automation for its shipyard's panel welding.
STX France decided to turn to Pemamek after a competitive offering round, and purchased PEMA Integrated One-sided Laser-Hybrid Welding and Milling Station with conveyor solution for welding deck plates together. To secure fast and reliable delivery of the welding line, STX France also included in its order installation, training and commissioning of the complete solution.
STX France is now able to reduce man hours by having less rework like fairing, no double work needed. The quality of deck panels improves, that makes block manufacturing easier due to less deformation on panels.
A PEMA Laser-Hybrid Welding System together with integrated heavy duty milling process ensures minimized distortion for the deck panels. The purchased system is capable to feed two of the yard's existing panel lines and that required also a special conveyor solution to be adapted.