Kongsberg Wins Drill Rig Automation Contract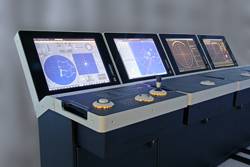 'Full Picture' delivery for two advanced new semi-submersibles.

Kongsberg Maritime has been awarded a significant offshore automation contract with Daewoo Shipbuilding & Marine Engineering (DSME). The contract covers the delivery of Kongsberg Maritime's proven Dynamic Positioning, thruster control, bridge navigation, vessel automation, safety, riser management and environmental monitoring systems to two semi-submersible drilling rigs (Cat-D). The two new build high specification semi-submersibles are designed for mid-water harsh environment in the Norwegian North Sea and have been orderd by Songa Offshore SE subsidiary, Songa Rig AS, following a Letter of Award (LOA) from Statoil, announced in July 2011.

"This is what we call a 'Full Picture' solution from Kongsberg Maritime. Our strategy is to take on more responsibility in the value chain by offering a full range of Integrated Automated Marine Systems. This contract was won as a direct result of this approach. Close collaboration with the customer and a commitment to understanding the extreme contexts in which our technology is applied are important driving forces behind this award," says Geir Håøy, President, Kongsberg Maritime.

Kongsberg Maritime will commence deliveries, including engineering services, to the DSME yard in Korea early 2012, with all key Kongsberg Maritime deliveries scheduled for completion by December 2012. Startup, commissioning and trials are scheduled to be completed in Q1 and Q3 2014. The contract also comes with an option for Kongsberg Maritime to deliver products and services for two more semi-submersible drilling rigs. "The competition is strong and we are very pleased to have secured this contract. It is a clear demonstration of our capabilities in this field. I am also very pleased with the hard work performed by our international offshore team," concludes Tor Erik Sørensen, Executive Vice President, Kongsberg Maritime.