Stauff ACT Clamp Also Available In the Twin Series Design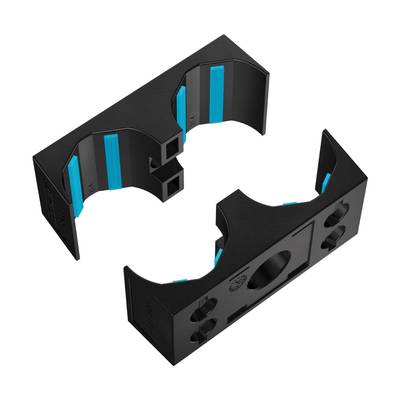 In order to complete the product portfolio and fulfil customers' requirements, the Stauff ACT Clamp – recently awarded by the U.S. American NACE International association with a prestigious Corrosion Innovation of the Year Award – will also be available in the Twin Series design from the fourth quarter of 2012 on. The new twin clamp allows for the simple, fast and secure fastening of two parallel running pipes with standard diameters from 6 mm to 25.4 mm (from 1/4 inch to 1 inch). Clamps for the installation of pipes with alternative or even two different outside diameters are also available upon request. It has been designed in accordance with DIN 3015 (Part 3). Thus, it can be used in combination with all the regular mounting hardware of the same series.
Stauff ACT Clamps, which used to be available in the Standard Series only, are an innovatively designed solution for the installation of stainless steel pipework where anti-corrosion properties are paramount.
Their design, based on the original Stauff clamp according to DIN 3015 and compliant with the Norwegian offshore standard Norsok Z-010, offers installation time reduction and long term cost savings due to extended service intervals compared to alternative clamp designs.
Due to integrated rubber strips that prevent the accumulation of seawater between the clamp and the stainless steel pipe, whilst forming drainage channels that aid the dispersal of seawater, the Stauff ACT Clamp efficiently prevents the formation of crevice corrosion under the clamp body - a well researched and documented problem in the oil and gas industry for many years.
Independent tests in laboratory and offshore conditions assessed by the Centre for Corrosion Technology at Sheffield Hallam University have recorded positive results in favor of the anti-corrosion attributes of the clamp.