BAE Systems Wins $146.3 Mln US Navy Contract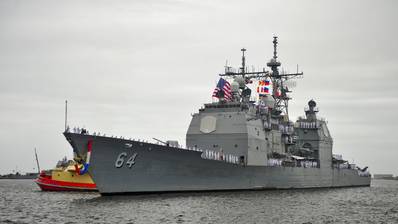 BAE Systems said it has been awarded a $146.3 million contract from the U.S. Navy to modernize the USS Gettysburg (CG 64).
The Ticonderoga-class guided-missile cruiser will undergo about 15 months of work at the company's shipyard in Norfolk, Va., the ship's homeport. The contract includes options that, if exercised, would bring the cumulative value to $151.3 million.
Starting in January 2019, the Gettysburg will undergo extensive repair and upgrade work that will return the ship to full capability after nearly four years of inactive status under the Navy's cruiser modernization program. BAE Systems' Norfolk shipyard performed the initial modernization work on board the ship in 2016, including the removal of obsolete equipment and replacement of critical aluminum shipboard structures.
"We brought a lot of expertise to bear for a good start to the Gettysburg's modernization two years ago," said Dave Thomas, vice president and general manager of BAE Systems Norfolk Ship Repair. "Working again with the Navy and our ship repair partners, we will return the Gettysburg back to the fleet in enhanced shape with clear improvements to its operational capability and better habitability for the crew."
Under the new contract, BAE Systems will upgrade the ship's weapons and engineering equipment; support the installation of a new Aegis combat system, new communications suite and the Consolidated Afloat Network Enterprise Systems (CANES); and renovate the crew's living spaces aboard the 27-year-old ship. The work is scheduled to be complete in March 2020.
USS Gettysburg was built by Bath Iron Works in Bath, Maine and commissioned in 1991. BAE Systems' work is expected to extend the vessel's service life to 2035.