Baltic Dry Index Records Fourth Consecutive Weekly Drop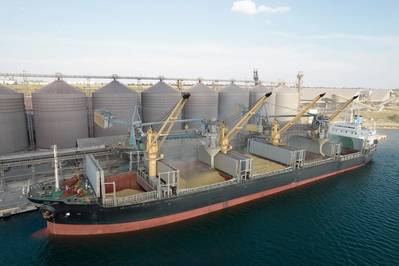 The Baltic Exchange's main sea freight index, tracking rates for ships carrying dry bulk commodities, marked its fourth consecutive weekly fall on Friday as capesize demand remained numb.
The overall index, which factors in rates for capesize, panamax and supramax shipping vessels, was down one point to 676, levels last seen during June 2020. The index was down 11.4% for the week.
The capesize index lost 15 points, or about 2.7%, at 534, a near five-month low. It was down 32% for the week, also a fourth consecutive weekly fall.
Average daily earnings for capesizes, which typically transport 150,000-tonne cargoes such as iron ore and coal, were down $118 to $4,433.
The panamax index was up nine points, or about 0.9%, at 1,054. However, it edged down 0.6% on its second consecutive weekly drop.
Average daily earnings for panamaxes, which usually carry coal or grain cargoes of about 60,000 to 70,000 tonnes, rose by $78 to $9,487.
Among smaller vessels, the supramax index rose five points to 650.
(Reuters - Reporting by Harshit Verma; Editing by Krishna Chandra Eluri)