Baltic Dry Index Rises to Over Four-month High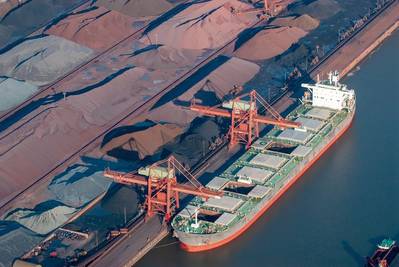 The Baltic Exchange's main sea freight index, which tracks rates for ships carrying dry bulk commodities, rose to its highest since mid-May on Monday, supported by gains in the capesize vessel segment.
The overall index, which factors in rates for capesize, panamax and supramax shipping vessels, rose 21 points, or 1.3% to 1,614, its highest level since May 10.
The capesize index added 65 points, or 3.1% to 2,148, its highest level in over four months.
Average daily earnings for capesize vessels, which typically transports 150,000-tonne cargoes carrying commodities such as iron ore and coal, increased $536 to $17,274.
The panamax index, meanwhile, remained unchanged from the previous session at 1,685.
Average daily earnings for panamax vessels, which usually carry about 60,000 to 70,000 tonnes of coal or grain cargoes, rose $4 to $15,168.
Iron ore prices declined as pre-holiday restocking came to an end and traders were concerned about lower-than-anticipated steel consumption during the peak construction season and potential steel output limitations throughout the winter in top customer China.
Among smaller vessels, the supramax index was flat at 1,354.
Russia's Foreign Minister Sergei Lavrov said on Saturday that Ukraine's proposed peace plan as well as the latest U.N. proposals to revive the Black Sea grain initiative were both "not realistic."
(Reuters - Reporting by Daksh Grover; Editing by Varun H K)