Baltic Index Down on Lower Panamax Rates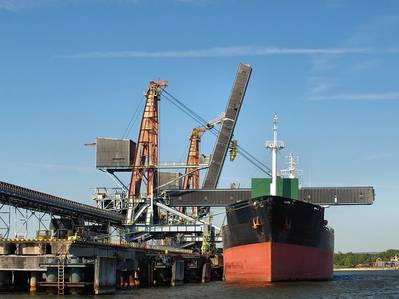 The Baltic Exchange's main sea freight index edged down on Friday, as lower rates for panamax vessels more than offset a rise in the capesize and supramax segments.
The Baltic index, which tracks rates for capesize, panamax and supramax vessels that ferry dry bulk commodities, fell 2 points, or 0.3%, to 631.
However, the index gained 2.3% this week, marking its fifth straight weekly gain.
The capesize index rose 44 points to -311.
Average daily earnings for capesizes, which typically transport 170,000 tonne-180,000 tonne cargoes including iron ore and coal, rose by $105 to $2,797.
Many businesses in top steel producer China have reopened after weeks of shutdowns due to virus containment measures, but overall demand for metals remains clouded because of the global pandemic.
The panamax index dropped 28 points, or 2.7%, to 1,007.
The index lost 5.7% this week, registering its first weekly loss in five.
Average daily earnings for panamaxes, which usually carry coal or grain cargoes of about 60,000 tonnes-70,000 tonnes, fell $253 to $9,061.
The supramax index rose five points to 750 - the highest level since Dec. 19.
(Reporting by Anjishnu Mondal in Bengaluru)