Baltic Index Near Fresh 3-year High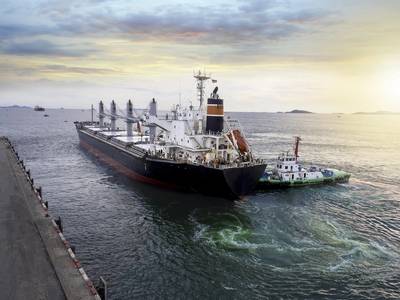 The Baltic Exchange's main sea freight index, tracking rates for ships carrying dry bulk commodities, touched a fresh near three-year high on Thursday, supported by firmer rates across vessel segments.

The overall index — which factors in rates for capesize, panamax, supramax and handysize shipping vessels — rose 24 points, or 1.8 percent, to 1,361 points, a peak since November 2014.

The capesize index gained 14 points, or 0.53 percent, to 2,642 points.

"Expectations are that the market will continue upwards for the next months to come. The underlying fundamentals look good with further increase in the commodity prices and with a very low fleet growth in the capesize market," it added.

Average daily earnings for capesizes, which typically transport 150,000-tonne cargoes such as iron ore and coal, were up $156 to $19,285.

The panamax index rose 35 points, or 2.39 percent, to 1,499 points, the highest since April 20.

Average daily earnings for panamaxes, which usually carry coal or grain cargoes of about 60,000 to 70,000 tonnes, increased $293 to $12,047.

Among smaller vessels, the supramax index rose 27 points to 950 points, while the handysize index rose 9 points to 529 points.
Reporting by Karen Rodrigues in Bengaluru; Editing by Shounak Dasgupta