Baltic Index Marks Second Straight Weekly Decline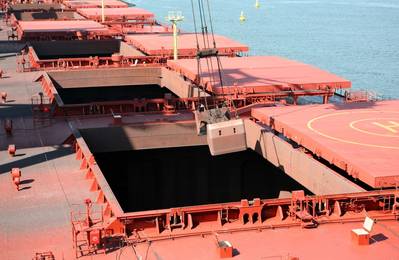 The Baltic Exchange's main sea freight index, tracking rates for ships carrying dry bulk commodities, fell on Friday to mark a second straight weekly decline, as rates across vessel segments fell.
The overall index, which factors in rates for capesize, panamax and supramax shipping vessels, was down 32 points, or 2.9 percent, at 1,077 points. The index registered its ninth consecutive daily fall and its biggest weekly decline since the week of Dec. 22, 2017.
The capesize index lost 156 points, or 10.1 percent, at 1,395 points, its lowest since April 17. Average daily earnings for capesizes, which typically transport 170,000-180,000 tonne cargoes such as iron ore and coal, were down $671 to $11,177.
The panamax index was down 15 points, or 1.248 percent, at 1,187 points. Average daily earnings for panamaxes, which usually carry coal or grain cargoes of about 60,000 to 70,000 tonnes, decreased $120 to $9,572.
The supramax index fell three points to 1,071 points.
Reporting by Nithin Prasad