Baltic Index Posts First Drop in 3 Weeks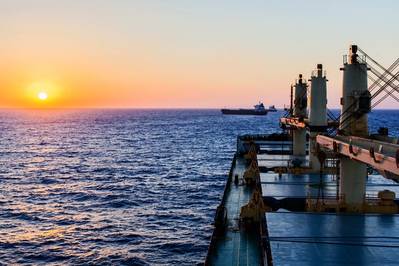 The Baltic Exchange's main sea freight index, tracking rates for ships carrying dry bulk commodities, on Tuesday snapped a 16-day winning streak, weighed down by weaker demand for capesize vessels.

The overall index, which factors in rates for capesize, panamax, supramax and handysize shipping vessels, fell 17 points, or 1.34 percent, to 1,249 points.

The capesize index shed 95 points, or 3.68 percent, to close at 2,489 points, notching its first drop since July 27. In that period, the index had gained nearly 120 percent.

Average daily earnings for capesizes, which typically transport 150,000-tonne cargoes such as iron ore and coal, declined $681 to $18,834.
"Capesize vessels have taken a slight back-step today due to softer fixture levels in the Pacific leading average global earnings to dip to around $18,800/day,"
Clarksons Platou Securities analysts
said in a note.

The panamax index edged lower by 4 points, or 0.3 percent, to 1,345 points.

Average daily earnings for panamaxes, which usually carry coal or grain cargoes of about 60,000 to 70,000 tonnes, fell $34 to $10,778.

Among indexes tracking smaller vessels, the supramax index climbed 7 points to 824 points, while the handysize index inched up 2 points to 468 points.

(Reporting by Eileen Soreng in Bengaluru)