Barges Break Free on the Ohio River in Louisville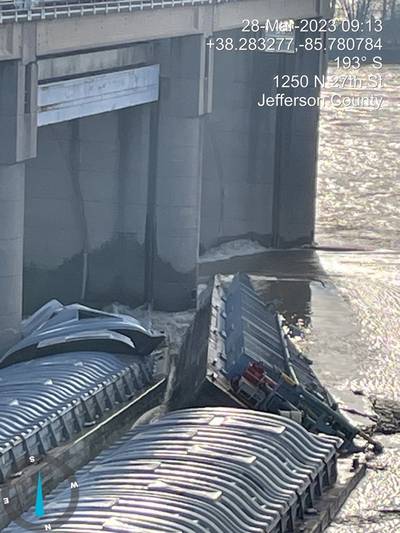 The lock chambers at McAlpine Locks and Dam in Louisville, Ky., are closed to traffic after 10 barges broke loose from a tow on the Ohio River.
Shortly after 2 a.m. on Tuesday, a vessel towing 11 barges struck a stationary structure at the entrance to the Portland Canal near the lock and dam, causing 10 of the barges to break loose.
No injuries were reported, and all personnel are accounted for.
Seven of the runaway barges, including one that had been pinned against the L&I railroad bridge pier, have been recovered, but three remain pinned against the lower dam site at Ohio River mile 606.8.
Most of the barges were carrying soy and corn, except for one with three independent cargo holds containing approximately 1,400 metric tons of methanol. There is currently zero evidence of a tank breach or any leaks, the Kentucky Environment and Energy Cabinet (EEC) said.
The Kentucky EEC is currently monitoring water quality and said there is currently no impact to Louisville Water's water intake or water quality. CTEH is monitoring air quality.
The U.S. Army Corps of Engineers said it is working with the U.S. Coast Guard, navigation industry and marine surveyors to start the recovery efforts of the remaining barges. The locks will remain closed until the barges on the dam are stabilized.
The Coast Guard said it is currently investigating the cause of this incident.