Long Beach's Green Port Policy Turns 10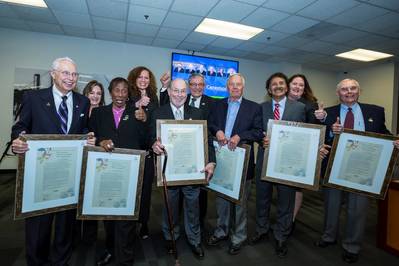 Adopted on January 31, 2005, the Green Port Policy is a pledge to protect air, water, community and wildlife, and to consider the environment in all of its day-to-day activities. According to the port, air quality and water quality have dramatically improved sunder the policy's implementation, helping the Port of Long Beach to be recognized as leader in environmental stewardship among seaports around the world.
The ports present commissioners unanimously adopted a resolution Monday to reaffirm the port's commitment to the Green Port Policy. Harbor Commission President Doug Drummond, said, "Protecting the environment is one of the great challenges of the 21st century, and the biggest success of our Green Port Policy is yet to come as we see our programs being adopted at ports around the world – and our industry free of emissions and completely sustainable."
On Monday evening, the current Harbor Commission honored six former commissioners for their roles in initiating and setting in motion the Green Port Policy in 2005. Former commissioners Mario Cordero, James C. Hankla, John Calhoun, Doris Topsy-Elvord, John Hancock, and Dr. Mike Walter received proclamations thanking them for their work.