Damen CEO Berkvens Receives CEMT Award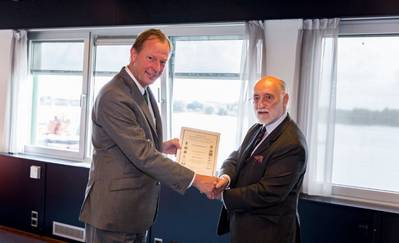 The Council of the Confederation of European Maritime Technology Societies presented Damen CEO René Berkvens with the CEMT Award on Thursday, August 24, at Damen Shipyards Gorinchem. The Council bestows the award annually in recognition of the substantial contribution made to the success of the European maritime industry by an individual, company or organization. The contribution can be either technological, political or economic.
Berkvens received the award in recognition of his leadership of Damen and the contribution this has made toward the successes of the European maritime sector. Chairman of the Council of the Confederation of European Maritime Technology Socieities Trevor Blakeley, said, "I am sure that your colleagues at Damen, and those in the maritime industry who have knowledge of your achievements, will join me in congratulating you on this well-deserved recognition."
Receiving the award, Berkvens said, "It is an honor to receive this award. Reflecting as it does, Damen's contribution to the success of our industry, it is a demonstration of the hard work and dedication of the entire Damen team."
During the award ceremony, Blakeley attended a presentation about the Damen organization given by Design & Proposal Engineer Antonio Marte. A second presentation, on Research, Development, Innovation and Technology, delivered by Group Research Coordinator Peter van Terwisga, demonstrated Damen's determination to contribute to the success of the industry into the future.
Over the past 33 years, Berkvens has held many different positions within the Damen Shipyards Group. He began his career in the Sales department for Africa, before becoming Area Director for the
Americas region
. When Damen took over the Royal Schelde, the
Netherlands
' premier naval shipyard, in 2000, Berkvens oversaw the program to turn around the yard's fortunes. Between 2004 and 2006, he held the position of the Vice President of the group, responsible for the naval division and superyacht building at Amels. Since 2006 he has held the title of CEO, with overall responsibility for group operations. During that time, Damen has doubled its turnover and acquired 15 companies covering newbuild, ship repair and engineering activities.
The Council of the Confederation of European Maritime Technology Societies is a nongovernmental organization with the UN Economic Commission for Europe (UNECE) and the Central Commission for the Navigation of the
Rhine
(CCNR) The council is made up of representative organizations from European maritime nations.