Blackbeard's Cannons Salved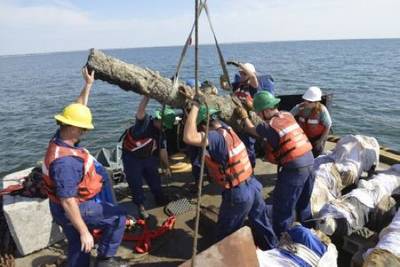 The crew of the Coast Guard Cutter 'Smilax' worked with personnel from the North Carolina Department of Cultural Resources to recover 5 cannons and multiple barrel hoops from the 'Queen Anne's Revenge' in Beaufort Inlet, N.C.
The Queen Anne's Revenge was the ship of the pirate Edward Teach, better known as Blackbeard, for more than a year before the ship ran aground on the shoals in the inlet.

The crew of the Smilax, a 100-foot inland construction tender, worked with NCDCR divers to lift the approximately one-ton cannons aboard the Smilax using a combination of flotation bags and the ship's crane.

According to Wikipedia, Teach captured a French merchant vessel, renamed her Queen Anne's Revenge and equipped her with 40 guns. He became a renowned pirate, his cognomen derived from his thick black beard and fearsome appearance; he was reported to have tied lit fuses under his hat to frighten his enemies. He formed an alliance of pirates and blockaded the port of Charleston, SC. After successfully ransoming its inhabitants, he ran Queen Anne's Revenge aground on a sandbar near Beaufort, North Carolina.
A video of the recovery is available at: http://www.piersystem.com/go/doc/4007/1945458/