Saam Smit Towage Bolsters Americas Fleet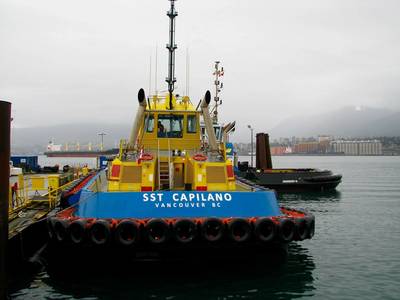 Saam Smit Towage, a joint venture between
SAAM S.A.
and Royal Boskalis Westminster N.V. providing towage services in Mexico, Canada, Panama and Brazil, announced it has invested in fleet renewal in Canada and Panama.
The company's Canadian arm has taken delivery of newbuild tug SST Capilano, to be added to the fleet of 21 tugs operated in British Columbia. For Panama, meanwhile, a newbuild tug to be named SST Rambala has been ordered from Damen Shipyards and will be delivered in March, 2016.
SST Capilano, named after
Chief Joe Capilano
, a historic leader of the Squamish First Nation, is 22 meters long and will deliver 65 tons Bollard Pull.
"The SST Capilano is part of the renewal plan of our fleet in Canada, which includes the recent addition of two existing modern tugboats and the construction of two new tugboats in North Vancouver, said Marcelo Jullian, CEO of Saam Smit Towage for North and Central America. "The SST Capilano is the first new built tug to join our fleet in Canada since establishment of the Saam Smit joint venture in 2014."
Jullian indicated that the tugboat will help the
Saam Smit Towage fleet
meet the higher power requirements driven by increasing ship sizes of their clients as well as increased safety standards.
The other new vessel, to be built by Damen Shipyards and delivered in March 2016 for the company's Panama fleet, is an ASD 2913 tugboat named SST Rambala, after a town in the district of Chiriqui Grande, a province in Panama.
The new tug is compact, maneuverable and powerful, and therefore ideal for crowded ports and waterways where space is limited, and includes firefighting capacity. It is 29 meters long and delivers 80 tons Bollard Pull towing capacity.
"The purchase of the SST Rambala is a pro-active decision to prepare our Panama fleet of 11 tugs for the opening of the new locks, which are likely to bring bigger vessels to the Panama terminals," Jullian said.
"Damen supplied all tugboats currently operated by SST in Panama. This fleet standardization and modernization makes it possible to achieve advantages in terms of maintenance during the useful life of the tugboats and thus ensures impeccable service levels for our clients, of which many use Panama as their regional hub," Jullian continued.