First Visit to Saudi by New British Warship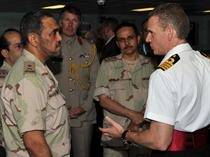 One of the Royal Navy's most advanced warships, 'HMS Daring', docks in Saudi Arabia to reinforce the country's strong relationship with the UK
The Portsmouth-based Type 45 destroyer is on her first operational deployment in the Gulf where she is working with partner nations, including Saudi Arabia, to disrupt drug smuggling, trafficking and piracy in the region.
The port visit to Al Jubayl provided a good opportunity to host 200 selected guests and VIPs so HMS Daring could display her impressive capabilities as an air defence warship.
Helping to reinforce the good working relationship that exists between the UK and Saudi Arabia, both of which are committed to the fight against global terrorism, the visit also emphasised the strong military bond between the two countries.
The United Kingdom Maritime Component Commander, Commodore Simon Ancona, who was in the country for an official visit, also attended as the senior Royal Navy officer.
Commanding Officer of HMS Daring, Captain Guy Robinson, said:
"It was a great privilege for me to take HMS Daring alongside in Al Jubayl for the first time. The visit provided an excellent opportunity to build on the strong relationship between the United Kingdom and Saudi Arabia.
"They make a very significant contribution to fighting terrorism in the region while being a trusted naval partner. This visit to Saudi Arabia was a first for me and a large number of my ship's company and it was a welcome break in a busy period working with Combined Maritime Forces."