British Warship to Join US MDA R&D Trials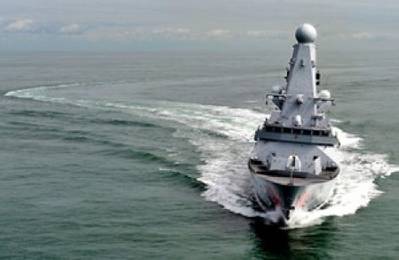 Building on its relationship with the US Missile Defense Agency (MDA) a Royal Navy Type 45 frigate will take part in major research trials.
The joint Ministry of Defence and industry-run UK Missile Defence Centre (MDC) has agreed to take part in trials which will include testing the Sampson radar, part of the Sea Viper missile system, in detecting and tracking ballistic targets.
While there is no programme to fit Type 45 with Theatre Ballistic Missile Defence (TBMD) capability, much of the MDC's research over recent years has been geared towards understanding potential the Royal Navy's newest destroyers may have in this arena.

Simon Pavitt, Head of the MDC, remarked on the new research and development approach:
"It will be a step change to be able to work so closely with such a ship in an emerging area of Defence. Working with an operational platform will make a significant difference to our level of understanding and could contribute both financially and technically towards any future programme."

The MDA regularly conducts similar trials to test and verify the US military's BMD systems. Including a Type 45 in one of these events for the first time, allows the two allies to closely cooperate with each other. HMS Daring , the first of the Type 45 Class, is no stranger to operating with the US Navy, having completed several training exercises in both US and UK waters. HMS Daring's recent deployment to the Gulf included several joint operational missions.

The UK Missile Defence Centre was established in 2003 following signature of a Memorandum of Understanding between the UK and US on how to jointly conduct ballistic defence studies. By establishing a joint industry and MOD centre the UK government can best meet the UK's long-term policy and research requirements.