iCGlobal: New Global Maritime Broadband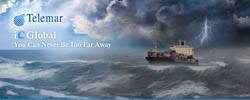 Telemar, in partnership with ORBIT Communication Systems and Milano Teleport launched iCGlobal, a concept the trio dubs a new paradigm in
maritime satellite communications
. Described as "flexible and future proof," the companies say the service combines the benefits of robust, all-weather global coverage of C-Band and cost-efficient scalable airtime packages with the easy-to-install and revolutionary compact OrBand VSAT system.
"iCGlobal is available in a wide range of pricing models and leasing packages which render it highly competitive in pricing while providing unlimited capacity, committed information rate (CIR) and superior performance than solutions such as hybrid Ku/FBB and future Ka" said Giorgio Santantonio, General Manager of Telemar Compagnia Generale. "With this solution, ocean-going vessels can achieve true global connectivity today, and rest assured that the quality of service will be constant anywhere and under any weather."
iCGlobal recommended package includes unlimited global airtime at 128kbps CIR, OrBand™ VSAT system and other necessary equipment as well as an extended warranty at a cost of $3300 per month.
"iCGlobal is a strong addition to Telemar Group's portfolio of communication services," added Gennaro Faella, Director of Corporate Operative Coordination and Business Development for Telemar Group. "Telemar's distinctive value is in the integration of best-of-breed technologies in order to create innovative solutions which deliver the specific mix of capabilities required by the various end users."
A key component of the iCGlobal solution is OrBand, a compact C-band maritime
VSAT system that
was built specifically to overcome the limitations of traditional C-band terminals. OrBand takes up 40% less deck space than industry-standard systems and is over 30% lighter. Small enough to be shipped as a single, fully assembled and tested unit in a standard 20-foot container, OrBand drastically lowers deployment costs and can be installed in a matter of hours. This means that OrBand can be installed while ships are on routine port calls, substantially driving down operational costs and eliminating the need for vessels to await dry dock.