Nichols Brothers to Build Vessel for American Samoa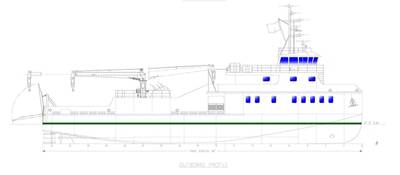 Ice Floe, LLC dba Nichols Brothers Boat Builders (NBBB) has been contracted by the Government of American Samoa to build a multipurpose vessel to operate in the warm waters of the South Pacific primarily between Pago Pago and the Manu'a Islands, however the vessel will also be certified to travel to Tonga, Fiji and U.S. territory Islands to support the economic development of American Samoa.
"We are very happy to be working with EBDG again on another landing craft project," said Gavin Higgins, CEO of Nichols Brothers Boat Builders. NBBB contracted EBDG to complete the production engineering for the Bowhead Landing Craft, which the yard delivered late last year."
The proposed vessel, which is a 140 ft. landing craft, has a beam of 38 ft., depth of 13 ft. and accommodates up to eight crew members overnight. The boat is one of a small number available to transport local residents between the Samoan islands. Until recently, most of those vessels served the immediate community. The new landing craft features a spacious air-conditioned passenger accommodation for 150 passengers on the main deck and cabins for eight crewmen on the 01 deck, will also be available for tourists. The aft deck of the vessel has a 1,840 sq ft. cargo ware deck with a 15-ton capacity telescoping deck crane for vehicle, container and vital cargo transportation.
The vessel is equipped with two Caterpillar C32 main engines with 850HP each and a 150HP bow thruster driven by a hydraulic motor for ease of maneuverability.
EBDG noted that the vessel's design is in accordance with ABS Rules for Building and Classing Steel Vessels of 90m or less for the structural design, and meets US Coast Guard (USCG) requirements per 46 CFR Subchapter T or I.
Nichols Brothers Boat Builders and the Government of American Samoa have been working together on the design concept of the new multipurpose vessel since early 2014. "We have visited American Samoa multiple times to survey and learn from the current vessels and operators so we provide
American Samoa with
a vessel that will maximize their operations and supplement their existing fleet," Higgins said.
Project Manager Mark Thompson said, "This is an exciting and rewarding project for Nichols as it is a real design build project. Working this one on the heels of Bowhead allows us to keep the same team together which is great for communication."
Nichols Brothers Boat Builders will begin construction of the vessel in spring 2015 with delivery in April 2016 using the same team that recently successfully completed the Bowhead project. Construction will take place at NBBB's Freeland facility on Whidbey Island where it is currently building a vehicle passenger ferry for Wahkiakum County, two ATB Tugs for Kirby Offshore Marine amongst various repair projects. This spring, construction will also commence on the Superstructure portion of the third 144-Car Washington State Ferry contracted to Nichols by Vigor Industrial.