Nichols Brothers Boat Builders Launch M/V Robert Franco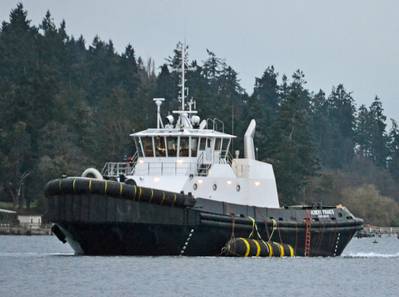 On March 14, 2013 Nichols Brothers Boat Builders launched the M/V Robert Franco the first of two tractor tugs Nichols has contracted with Harley Marine Services.

Nichols began construction of the 100' x 40' Z-drive ship assist tractor tug in May of 2012. On March 14th 2013 Nichols launched the vessel into Holmes Harbor of Whidbey Island from their Freeland Shipyard. The vessel was then towed to Nichols Langley site for final vessel outfitting, dock and sea trials. The M/V Robert Franco will be delivered to Harley Marine Services in mid April 2013.

The Tractor Tug, a Jensen Maritime of Seattle, Washington design, is ABS load line certified and consists of a complete propulsion system. Two Caterpillar 3516C diesel engines coupled to the Rolls Royce z-drive system. The tug is also equipped with two Cat C9 generators. The propulsion package will produce over 90 tons of bollard pull with a combined horsepower of 6,770, giving the tug exceptional pulling power and maneuverability. The vessel is outfitted with Mackay Marine Electronics, Technicold by Northern Lights HVAC system, two Markey winches, one forward for ship assist and one aft for towing and a Smith Berger tow pin aft.
Nichols Brothers Boat Builders was chosen by Harley Marine for their combined expertise and quality of work. Nichols has built numerous tugs of this size and range in the recent past. The M/V Ahbra Franco is also contracted with Nichols Brothers and construction is well underway. The M/V Ahbra is scheduled to be launched from Nichols in late June with a July delivery to Harley Marine Services.