BSM Demonstrates Commitment to Greek Shipping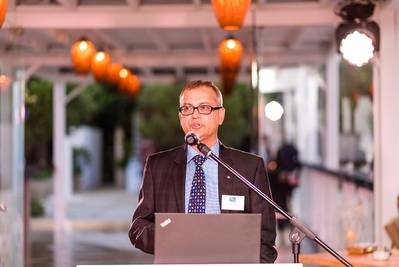 Bernhard Schulte Shipmanagement (BSM) demonstrated its commitment to the Greek shipping industry on May 24th, 2018, during a hospitality event titled 'The future of shipmanagement' in Athens, co-organized with MariApps Marine Solutions.
More than 120 figures from the maritime sector, including representatives from ship owners, customers, business partners, government, industry associations and members of BSM's key management, were present.
The event was hosted by Theophanis Theophanous, Managing Director of BSM Greece, and attended by Ian Beveridge, Schulte Group Chief Executive Officer, who gave the welcome address together with Christoph Schulte, Schulte Group shareholder representative.
Topics covered during the informative event included digitalization trends in the shipping industry, an area in which the Schulte Group is investing significantly, and an overview of the new Athens-based BSM Fleet Performance Center (FPC).
In introducing the FPC, Frank Paleokrassas, Corporate Manager - Fleet Performance, outlined how this center of excellence would further enhance BSM's ability to monitor vessel performance in real time, with the aim of maximizing energy and operational efficiency.
Sankar Ragavan, Chief Executive Officer of MariApps Marine Solutions, presented the importance of effective data management and pointed out that the maritime industry produces about 100-120 million data points every day, many of which contain commercial and operational intelligence, actionable insights and opportunities for ship owners and managers to achieve optimal operational efficiency and enhanced stakeholder value.
"The potential of Big Data remains largely untapped within the shipping industry, as do the associated opportunities for innovation, improved asset utilization and optimized performance," Sankar stressed to the guests.
Ian concluded, "With a presence of 13 years in Athens, Greece continues to be an important market for the Schulte Group, which is why we have invested in an Athens-based Fleet Performance Center for the benefit of both our Greek customers and the vessels we manage on behalf of owners all over the world."
Yesterday's event was a precursor to the upcoming bi-annual Posidonia exhibition in Athens, a gathering of ship owners and the global maritime community, at which BSM will be present as an exhibitor.