Powerful New ATBs for Vane Bunkering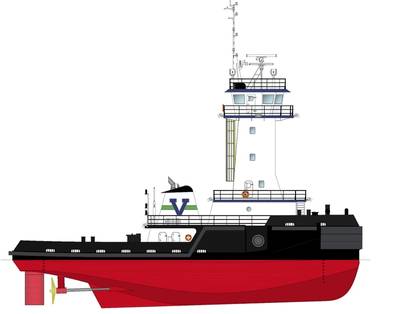 The bold blue "V" logo emblazoned on the green-banded white stack continues to proliferate on American waterways. Vane Brothers Company has been expanding its fleet with new construction. Recently the marine transportation company announced a contract for three ATB tugs to be built at the Conrad Orange Shipyard in Orange, Texas.

Designed by Greg Castleman of Castleman Maritime LLC, based in Clear Lake Shores, Texas, the 110-foot by 38-foot tugs will be mated to 80,000-barrel barges designed by Bristol Harbor Group and being built by Conrad Industries of Amelia, Louisiana. These barges measure 405 feet by 74 feet.

Each ATB unit will utilize a Beacon-Finland JAK 700 tug/barge coupling system. Crew access to the barges will be facilitated by a Schoelhorn-Albrecht custom gangway. Coastal Marine Equipment of Gulfport MS will supply deck capstans on the tugs.

A pair of Cummins QSK-60M, Tier 3 engines, each rated at 2,200 HP was recently delivered to the yard to be installed in the first tug. They are being coupled to Reintjes WAF 873 gears with 7.087:1 reduction and will turn 102-inch 4-blade bronze propellers mounted on 9.5-inch shafts. Two Cummins-powered 125 kW generators will provide electrical power for each vessel with a Cummins powered 60 kW emergency generator.

The tugs will have accommodation for up to 10 crewmembers. The Cummins-powered boats will be classed ABS-A1 TUG, AMS, ABCU. Delivery of the first tug, to be named Assateague, is scheduled for August 2017.