Burger Boat Gets $2.9m Assist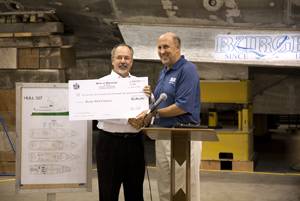 Governor Jim Doyle announced a $2,880,128 project that will support improvements to the Burger Boat Company's facility at the . The award is positioned to spur economic growth in the city of and the surrounding area.
"The Burger Boat Company is a valued partner in 's economy, and a valued part of 's history," Governor Doyle said. "I am pleased to provide assistance for this project will benefit the Burger Boat Company, the , and the economy of the region and the entire state."
Burger Boat Company will receive $2,304,102 for the project from the state's Harbor Assistance Program, and the company will provide the required 20 percent match, $576,026. The Burger Boat project involves dock rehabilitation, dredging, and paving of the boatyard to provide safe access to a recently installed launch well. The improvements will facilitate meeting current production and delivery demands.
Created in 1979, 's Harbor Assistance Program helps harbor communities maintain and improve waterborne commerce. Projects typically involve dock reconstruction, mooring structure replacement, dredging and the construction of facilities to hold dredged material.
Since the program began, the Wisconsin Department of Transportation (WisDOT) has administered over $61 million in matching funds for 62 port preservation and improvement projects.
's harbors move 40 million tons of goods worth over $7 billion each year and support 11,400 jobs. Burger Boat Company builds custom motor yachts, in aluminum and/or steel, up to 60 m (200 ft.).