Burger Boat's Sycara IV Sea Trial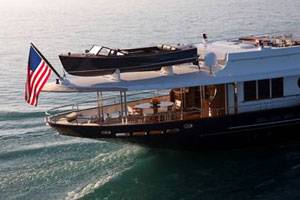 Sycara IV, a classically-styled custom 151 ft Fantail Motor Yacht, underwent an extensive sea trial on Lake Michigan where all systems were tested. Her owners, being particularly concerned about the environment, wanted this yacht to have low fuel consumption and a small wake that would not cause damage to the shoreline. The sea trials confirmed that while cruising effortlessly at 12 ½ knots with a very small wake Sycara IV burned only 27 gallons per hour, generator included.

Sycara IV represents Burger's continued commitment to designing and building custom yachts that meet their owner's specific requirements and desires. Styled after the classic yachts of the 1920's, Sycara IV brings together the design talents of Naval Architect Bruce King who developed her hull lines and Yacht Designer Ken Freivokh who worked with the owner and led the Burger Design Team to develop the interior and exterior designs. The team incorporated the intricate, period-appropriate details that were fabricated by Burger's craftspeople.

After her final fit-out Sycara IV will travel to her owner's home port and then on to the 2009 Ft. Lauderdale International Boat Show for her world debut.