Fourth Arleigh Burke-class Destroyer Ordered from GD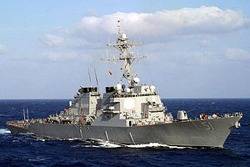 An additional type DDG 116 guided missile destroyer ordered from General Dynamics.
General Dynamics (GD) has received a $663m modification contract from the US Navy for the construction of an additional Arleigh Burke-class guided missile destroyer, DDG 116. Powered by four gas-turbine propulsion plants, the 509ft-long destroyers have a displacement capacity of 9,500t, cruise at 30kts and are equipped with advanced sensors, and weapons systems to engage anti-ship missile threats. The Navy's third Arleigh Burke-class ship is currently under construction, and delivery is scheduled for August 2018.