Burning Car Carrier off Dutch Coast Being Towed Away from Shipping Lanes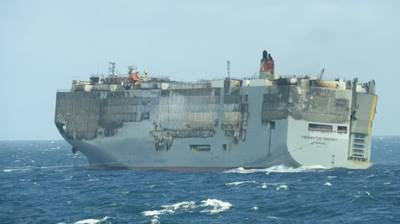 A burning car carrier off the Dutch coast is being towed to a new location away from shipping routes as part of a difficult operation to salvage the ship, the Dutch water board Rijkswaterstaat and media said.
The ship will be towed to a location 16 km north of the Dutch islands Ameland and Schiermonnikoog, Rijkswaterstaat said in a statement on Sunday.
The towing operation began on Sunday, and it was not known when the ship, which was traveling from Germany to Egypt when the fire broke out, will arrive at its temporary destination, the board said, adding it depended on weather conditions, smoke development on the carrier, current, and tide.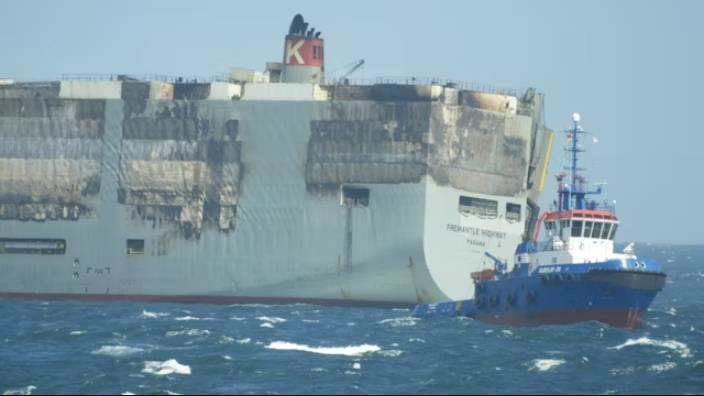 ©Rijkswaterstaat
The fire on the Panamanian-registered Fremantle Highway, which was carrying new cars, resulted in the death of an Indian crew member and injury of seven who jumped overboard to escape the flames. Japan's Shoei Kisen, which owns the ship, said the entire crew of 21 was Indian.
A Rijkswaterstaat spokeswoman told to the ANP Dutch press agency that at the temporary location, the ship would be further away from shipping routes and slightly out of the wind.
The relocation is an intermediate step in the difficult salvage operation, the spokeswoman said.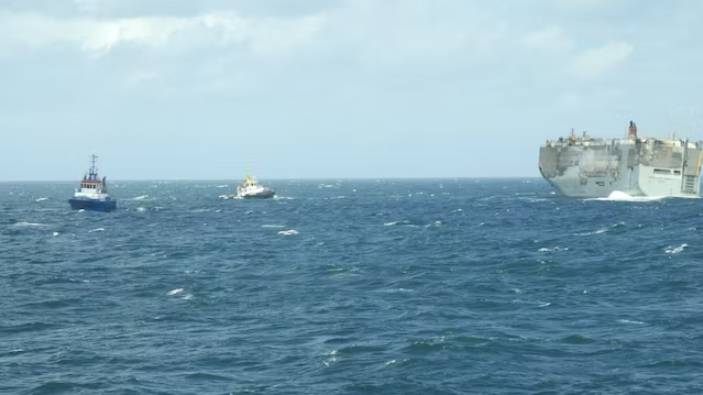 ©Rijkswaterstaat
Ship charter company "K" Line said on Friday that there were 3,783 vehicles on board the ship - including 498 battery electric vehicles, significantly more than the 25 initially reported.
The company declined to say anything about the car brands, including whether it included any cars from Japanese manufacturers.
EV lithium-ion batteries burn with twice the energy of a normal fire, and maritime officials and insurers say the industry has not kept up with the risks.
(Reuters - Reporting by Charlotte Van Campenhout; editing by Robert Birsel)
---
Read more: