California Port Container Volumes: One Up, One Down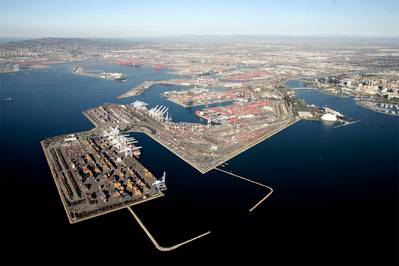 Port of Long Beach report surge in January container volumes, while those at Port of Los Angeles were slightly down.

Up – Port of Long Beach
Cargo volumes at the Port of Long Beach surged in January with 17.5 percent more containers overall ? including a 19.5 percent jump in imports and an 8.2 percent rise in exports compared to the same month one year ago.

Port terminals in January moved 536,263 TEUs (or twenty-foot equivalent container units). There were 273,918 TEUs of imports, the highest volume of import containers for a January since 2007. Exports rose to 126,714 TEUs.
Down – Port of Los Angeles
Overall volumes decreased 4.25 percent compared to January 2012, which the port attributes to the shift of a vessel service out of the Port of Los Angeles.

Imports decreased 5.32 percent, from 356,394 Twenty-Foot Equivalent (TEU) containers in January 2012 to 337,428 TEUs this January. Exports dropped 5.44 percent, from 168,427 TEUs in January 2012 to 159,257 TEUs in January 2013.