Save the 'United States' Online Campaign Launched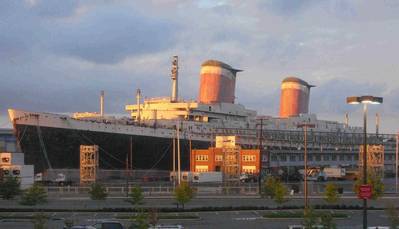 New interactive website to inform, raise resources, tells all about the historic ex Blue Riband holder S.S. United States
According to organizers of the 'Save the United States Campaign' their new website blends social networking with historic preservation to raise awareness and resources for the cause of saving one of the nation's most iconic national symbols. The groundbreaking interactive experience will create an online community committed to protecting a unique and inspiring expression of American pride and innovation.
Like the Space Shuttle and the 747, the SS United States is one of the nation's crowning technological achievements. Larger than the Titanic, she shattered the transatlantic speed record 60 years ago this week – a record that has never been broken.
The safest, fastest and most advanced ship of her time, SS United States epitomizes "Made in America" and remains the largest passenger ship constructed entirely in her namesake nation. The historic vessel was part of a top secret Cold War program to build the fastest ship afloat; the SS United States could be quickly transitioned from the luxury liner of choice for Hollywood celebrities to a massive, high-speed troop carrier. Today, America's Flagship sits idle and in a state of disrepair in Philadelphia awaiting restoration and repurposing as a museum and self-sustaining stationary waterfront destination.
The dynamic web platform, designed by Social Control of Los Angeles, enables visitors to scroll across the exterior of the ship and zoom in to uncover historical information about the ship's passengers and crew. For more information, visit: www.SavetheUnitedStates.org