Capilano Designs 23-Car Ro-Ro Ferry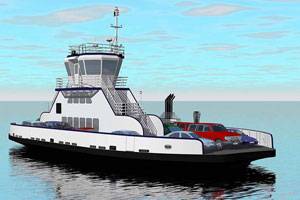 Capilano Maritime Design Ltd. has been awarded the design contract for a 23-car, 149-passenger Ro-Ro Ferry to replace the Bob Ellis currently being utilized by the Ketchikan Gateway Borough in Ketchikan Alaska. The vessel will be built at Alaska Ship & Drydock, Inc., also located in Ketchikan. The new ferry will be delivered to the State of Alaska in 2011.

Principal Particulars:
Overall Length 116.5 ft
Breadth 48 ft
Depth 12 ft
Design Draft 8 ft
Passengers 149
Vehicles 23 AEQ

Capilano Maritime is a naval architecture and marine engineering design firm based in North Vancouver, BC, Canada. The firm is co-owned by Chris Mulder, P.Eng, and Mark Mulligan, P.Eng. They have a combined work experience of more than 50 years in naval architecture design, towing company operations, and ship building. Capilano Maritime specializes in the design of commercial workboats including tugs, barges, crewboats, marine construction vessels and small ferries, as well as providing general consulting services to the marine industry.