Car Carrier Still Burning off Dutch Coast as Hunt for Cause Begins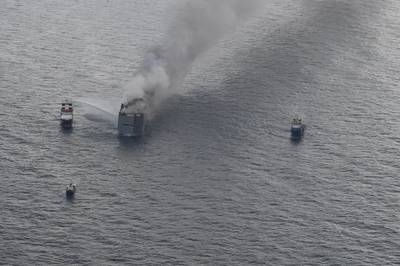 A burning car carrier was drifting off the Dutch coast on Thursday, the coastguard said, a day after the Panamanian-registered ship caught alight, causing the death of an Indian crew member and injuring several others.
The 199-metre (653 ft) Fremantle Highway caught fire overnight Tuesday and several of the 23 crew jumped overboard to escape the flames and were rescued by the Dutch coastguard.
The coastguard said on its website Thursday the cause of the fire was unknown, but an emergency responder is heard in a recording released by Dutch broadcaster RTL saying "the fire started in the battery of an electric car."
Roughly 25 out of 2,857 vehicles on the ship, which was en route from Germany to Egypt, were electric.
An investigation has been launched by the Panama Maritime Authority and the Netherlands was expected to assist the inquiry, Dutch Safety Board spokesman Arjen Zegers told Reuters.
The Fremantle had drifted westward in international waters from its initial location just off the island of Ameland in the direction of the island of Terschelling, Dutch news agency ANP reported.
The islands are on the northernmost tip of the Netherlands, and comprise part of the Wadden Sea, a vast area of tidal flats and marshland stretching along Germany and Denmark that is on UNESCO's World Heritage list.
(Reuters - Reporting by Anthony Deutsch; Editing by Toby Chopra)