Ronald Reagan Carrier Strike Group Visits South Korea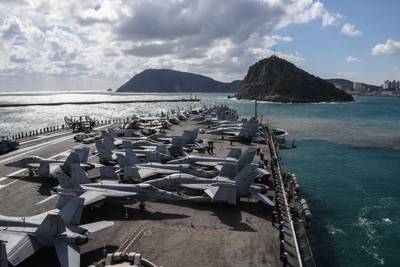 Task Force 70 Public Affairs (NNS) - The Ronald Reagan Carrier Strike Group arrived in Busan for a port visit, Oct. 21.
The aircraft carrier USS Ronald Reagan (CVN 76) with embarked staff of Commander, Task Force (CTF) 70, Destroyer Squadron (DESRON) 15 staff and Carrier Air Wing (CVW) 5, and the guided-missile destroyers USS Stethem (DDG 63) and USS Chafee (DDG 90) pulled into Busan after participating in Maritime Counter Special Operations Force Exercise (MCSOFEX) 2017.
The focus of the bilateral training exercise was to increase the readiness of U.S. and Republic of Korea (ROK) forces and maintain stability on the Korean Peninsula.
Shuttle tankers differ from "standard" crude oil tankers. To increase the regularity during loading operations and for the purpose of collision avoidance, they are equipped with dynamic positioning (DP) systems, which typically includes azimuth and tunnel thrusters both forward and aft. North Sea shuttles typically have a twin-screw propulsion system for redundancy and dynamic positioning purposes. In order to improve the position-keeping and manoeuvring capability in ballast condition, it is not uncommon that shuttle tankers have an increased ballast tank volume compared to
standard crude oil tankers
.
Vessels designed for operation in rough sea areas such as the North Sea feature a hull design with increased fatigue life. As shuttle tankers load offshore, they all have a bow loading arrangement. Some existing shuttle tankers were built with submerged turret loading (STL) systems required for serving specific North Sea oil fields.
A ROK Navy band played and children, dressed in traditional Korean clothing, presented flower leis to the leadership upon arrival.
"This port visit is the perfect ending to this regularly scheduled exercise with our Republic of Korea Navy counterparts," said Rear Adm. Marc Dalton, commander of Task Force 70. "After building interoperability at sea, exchanging cultures on liberty is a great way to deepen the relationship between our sailors and our nations."
The U.S. Navy routinely conducts carrier strike group operations in the waters around the Korean Peninsula to maintain interoperability, exercise maritime maneuvers, strengthen the U.S.-ROK alliance and improve regional security. Exercises are conducted throughout the year, including subject matter expert exchanges, anti-submarine and anti-surface warfare drills, communication drills, air defense exercises, counter-mine planning and distinguished visitor embarkations.
The visits after the exercise serve to increase goodwill and partnership between the two nations through multiple service and sporting events, ship tours, and a shipboard reception for ROK civic, business and military leaders.
While in port, Sailors will have the opportunity build relationships and give back a little by participating in various community service events where they can help out at local schools and assisted living homes in the area.
The Sailors can go shopping, tour the city, sample the cuisine or just relax after the challenging schedule of being at sea. For others, there will be opportunities to take morale, welfare and recreation trips to different cultural, religious, adventure or sport centers in the area.
The Ronald Reagan Carrier Strike Group is on patrol in the U.S. 7th Fleet area of operations to support security and stability in the Indo-
Asia-Pacific
.