Amver LNG Carrier Makes a Rescue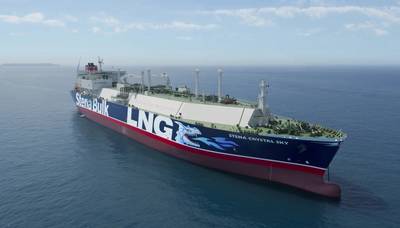 The crew of Amver participating liquefied natural gas (LNG) carrier Stena Crystal Sky recently rescued of two sailors stuck in severe weather approximately 1,000 miles southwest of Cabo San Lucas, Mexico.
U.S. Coast Guard rescue personnel received notification from the Garmin/Inreach Emergency Call Center that the 23-foot sailboat, on a voyage from Cabo San Lucas to the Marquesas Islands had experienced difficulties and lost auto-steering after encountering severe weather. The two yachtsmen on board had activated the emergency feature of their Inreach device and requested rescue.
Coast Guard authorities conducted an Amver Surface Picture and located the 977-foot LNG carrier 280 miles from the sailboat and requested the ship divert to assist. The captain of the Great Britain flagged vessel agreed to assist and changed course to find the stricken sailboat.
The Stena Crystal Sky arrived on scene and, despite winds of 22-knots and waves exceeding 10-feet, launched a small boat to recover the two sailors from their boat. Within an hour of arriving on scene the crew of the Stena Crystal Sky had safely embarked the sailors and left the sailboat adrift. The sailors were uninjured and stayed aboard the LNG carrier until it arrived in
Panama
.
The Stena Crystal Sky, managed by Stena Bulk of Sweden, has earned six Amver participation awards since it enrolled in Amver in January 2012.