Wärtsilä Win Evergas LNG Carriers Contract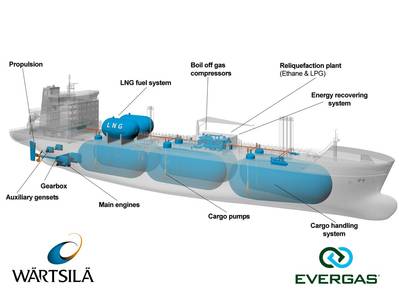 Wärtsilä to supply cargo handling package, dual-fuel engines & propulsion for Denmark's Evergas to be built at Sinopacific Offshore & Engineering in China.
In addition to LNG, the ships will be able to carry and reliquefy Ethane and LPGs with the cargo handling package supplied by Wärtsilä.
The vessels will operate primarily on liquefied natural gas (LNG) using Wärtsilä dual-fuel engine technology. This will enable them to comply with current and anticipated environmental legislation, including the International Maritime Organisation's (IMO) Tier III regulations. The Wärtsilä technology, however, also provides operational flexibility and redundancy, since it allows the possibility to utilize various conventional fuels in addition to LNG. The integrated LNG fuel system enables the vessel to operate on natural gas independently of the cargo carried.

The integrated systems contract enables a range of individual Wärtsilä solutions to be combined into a fully optimized package. Engineering and delivery of the complete cargo plant in combination with the gas fuel supply system and propulsion plant is enabling Wärtsilä to optimize the complete vessels energy consumption. This is clearly demonstrated, for example, where the LNG supply system is integrated with the cargo handling system so that it can be used to cool the cargo. In so doing, less energy and power is needed to keep the cargo temperature suitably low, thus providing a more efficient and environmentally sound overall system.
"The customer's essential requirements for these vessels are to achieve the operational and fuel efficiencies needed to optimize their operating costs, while at the same time complying with the upcoming Tier III environmental regulations," says Aaron Bresnahan, Vice President Sales, Wärtsilä Ship Power. "The advanced technology solution to be provided by Wärtsilä, whereby the cargo handling system, the gas supply system, and the propulsion machinery are fully integrated with each other, will make the vessels the most modern and environmentally sustainable LNG carriers ever built."