Cash Lures LNG Carriers to Northern Sea Route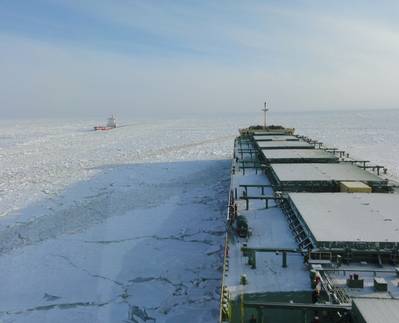 One major new development on the Northern Sea Route is the interest in using it to move liquefied natural gas to energy-hungry Asian markets, writes Stan Jones of the Office of the Federal Coordinator, Alaska Natural Gas in a recent article.

Late last year, the LNG carrier Ob River hauled the first LNG cargo over the route, from Norway to Kyushu Electric Power in Tobata, in southern Japan. The icebreaker-escorted trip, from the Snohvit LNG terminal in Hammerfest, took 27 days, and that was in November and December, late in the season. The same trip via the Suez Canal takes about 10 days longer.
While LNG tanker rates vary from company to company and season to season, short-term charters earlier this year were averaging $90,000-plus a day, with long-term charters around $80,000 a day, according to an August 2013 presentation by global consultants PFC Energy in Anchorage. Short-term rates spiked last year at $150,000 a day, with long-term charters running $120,000.

At those prices, cutting 10 days off a trip to Tobata could save $1 million.

Tanker time wasn't the only savings, according to the agency that runs Russia's nuclear icebreakers on the Northern Sea Route. The Ob River also saved about $80,000 in tariffs. The agency, Rosatomflot, put the ship's icebreaker fees for the trip at $332,000, versus $412,000 that would have been charged for passing through the Suez Canal.
The article can be found at: http://www.arcticgas.gov/sites/default/files/documents/northern-sea-route-beckons-lng-shippers.pdf

Source: Alaska Natural Gas, Office of the Federal Coordinator